Oké mensjes, ik heb vanmiddag mijn nieuwe laptop van de universiteit opgehaald. Het is een HP EliteBook 8570w. Hij ziet er goed uit, en zo'n verlicht toetsenbord is best cool (en handig als je in het donker wil typen)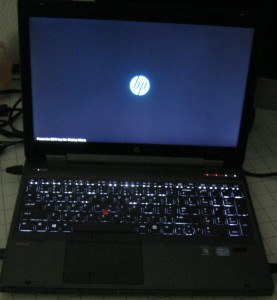 Natuurlijk staat hier de universiteitsimage op met allerlei meuk waar ik niet op zit te wachten. Het is trouwens een Windows 7 systeem. Thank God is not Windows 8, maar boeiend, het gaat er toch af. Op de vorige universiteitslaptop (HP EliteBook 8530w) werd ik gek van die "anti-rsi" software die zeurt dat ik te snel typ. Maar ff serieus, kijk eens hoeveel ikoontjes er langs de klok staan! En waar is het allemaal goed voor? Argh… ik haat voorgeïnstalleerde software.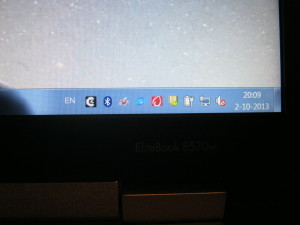 En kijk hoe ik "begroet" wordt? Muisgedrag? Opvolging interventies? Ja weer van die "anti-rsi" software (andere dan de vorige keer) die me constant lastig gaat vallen . Nee…. daar gaan we dus niet aan beginnen. We gaan die hele laptop leeg gooien en opnieuw installeren. En als we dat dan toch moeten doen, er natuurlijk gelijk Linux op zetten. Geen Microsoft meuk! Afin. Het plan was dus eerst een image te trekken van de huidige inhoud van die harde schijf, om er vervolgens ArchLinux op te zetten.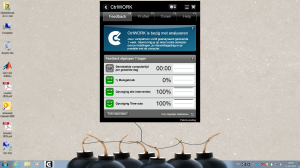 Het eerste issue daarbij is dat er blijkbaar geen optische drive in deze laptop zit. Wegbezuinigd? Afin, er lijkt een blindklep op te zitten, dus waarschijnlijk is deze gewoon te bestellen. (zie hiero) Dusch…. dan maar externe DVD drive aangesloten… doet die drive het niet meer. Arrgghh…. Dat schiet dus niet op. Nou ja… eerst maar eens navragen of ik via de universiteit nog een optische drive kan aanschaffen, anders maar kijken waar ik die kan bestellen, want ik heb geen zin altijd een USB DVD drive te moeten meezeulen. (Trouwens ik betwijfel of ik een nieuwe USB DVD drive ga aanschaffen aangezien ik geen netbook meer heb)
Het zou in principe mogelijk zijn om vanaf een USB stick te booten en toch door te gaan met de image en installatieprocedure, maar ik heb daar vandaag mooi geen zin meer in.
Edit: It's the power adaptor, it's always the power adaptor. Ik had dus twee gelijke voedingen (precies zelfde type) voor de desbetreffende USB DVD drive. Het probleem lag dus aan de voeding. Met de andere voeding werkt hij wel. (alsof ik niet al genoeg ellende met voedingen heb… het in "Power for Pi" project is ook alweer gestrand in verband met een crappy chinese voeding)